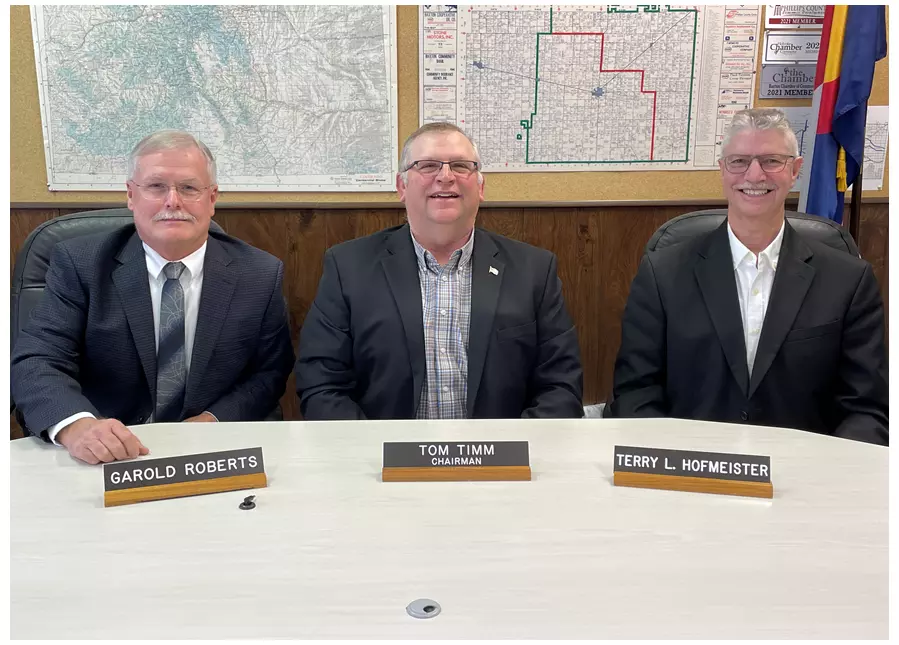 District 2 Commissioner
Garold Roberts
Roberts was born and raised in Holyoke, graduating from Holyoke High School in 1972.
He spent 8 years as a lineman for Highline Electric Association, 3 years as a deputy and undersheriff for Phillips County,
9 years as electric and city superintendent in Holyoke, and 13 years as maintenance coordinator for Longmont
Power and Communication. He also spent 4 years working for Phillips County road and maintenance crews.
He has 18 years of experience as a volunteer fireman in Holyoke and has served on the boards of Holyoke 
Community Federal Credit Union and Phillips County Museum.
Roberts and his wife have 2 grown children.
As County Commissioner, Roberts serves on the following boards:
Workers' Compensation Insurance Pool
ComBoard
EMS
Emergency Management
Northeast Colorado Housing
PC Fair Board
ETPR (primary representative)
CAPP
Region I (alternate)
 
District 3 Commissioner
Tom Timm - Newly elected board chair
Timm has been a Holyoke resident since 1971, graduating from Holyoke High School in 1988. Timm was employed by Wayne Skold
for 26 years in ranching and farming. He has had his own trucking company, Timm Trucking, for the past 3-1/2 years.
He is a member of Zion Lutheran Church in Holyoke and is past president of the Holyoke Gun Club.
Timm and his wife have 4 grown children, and 3 grandchildren.
As County Commissioner, Timm serves on the following boards:
Eastern Colorado Services for the Developmentally Disabled
Northeast Colorado Association of Local Governments
Seizure Committee
Emergency Management
PC Fair Board (primary representative)
ETPR
Recreation District (alternate)
CCI Legislative Proxy
District 1 Commissioner
Terry L Hofmeister
Hofmeister was elected to his first term in 2018. He was born in Phillips County and returned to Phillips County in 2012 to his grandfather's family farm to raise cattle and dry land farm.
Hofmeister spent 33 years working full and part-time for Marathon Petroleum Company, a Fortune 100 company. He worked at many different locations and positions ending in Kentucky as a Regional Manager.
Hofmeister is active with the Republican party and is a member of the First Methodist Church of Holyoke.
Hofmeister has 5 grown children.
As County Commissioner, Hofmeister serves on the following boards:
NE CO Health
Centennial Mental Health
CCI Legislative Committee
Emergency Management
PC Fair Board 
ETPR
Pro-15
CHP