#FFFFFF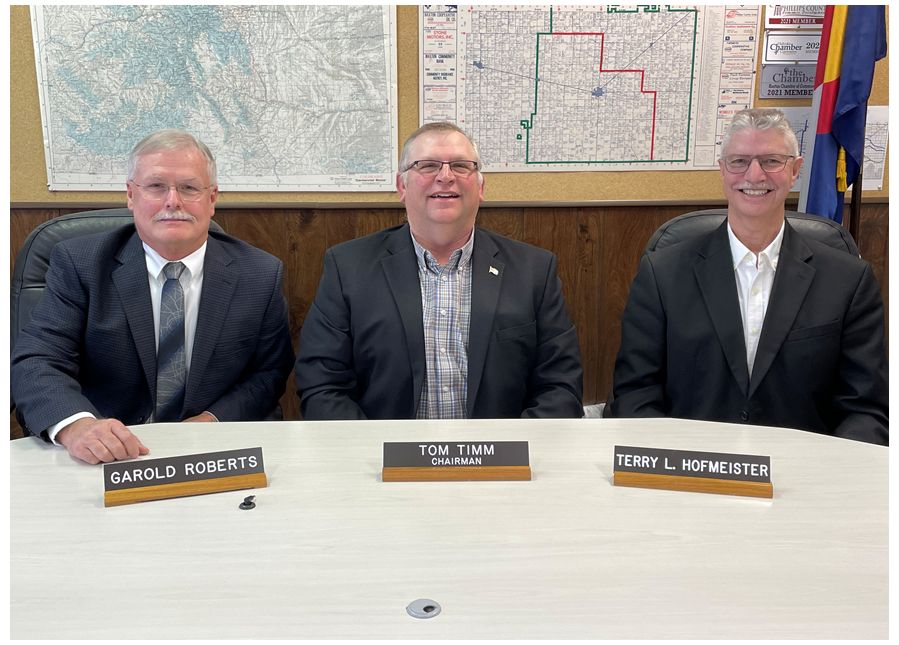 #FFFFFF
District 2 Commissioner
Garold Roberts - newly elected chair for 2023
Roberts was born and raised in Holyoke, graduating from Holyoke High School in 1972.
He spent 8 years as a lineman for Highline Electric Association, 3 years as a deputy and undersheriff for Phillips County,
9 years as electric and city superintendent in Holyoke, and 13 years as maintenance coordinator for Longmont
Power and Communication. He also spent 4 years working for Phillips County road and maintenance crews.
He has 18 years of experience as a volunteer fireman in Holyoke and has served on the boards of Holyoke 
Community Federal Credit Union and Phillips County Museum.
Roberts and his wife have 2 grown children.
As County Commissioner, Roberts serves on the following boards:
Comboard
Northeast Colorado Housing
EMS Board
PC Fair Board
ETPR (primary representative)
Workers' Comp Insurance Pool
CAPP
Region I Translator Association
 
District 3 Commissioner
Tom Timm
Timm has been a Holyoke resident since 1971, graduating from Holyoke High School in 1988. Timm was employed by Wayne Skold
for 26 years in ranching and farming. He has had his own trucking company, Timm Trucking, for the past 3-1/2 years.
He is a member of Zion Lutheran Church in Holyoke and is past president of the Holyoke Gun Club.
Timm and his wife have 4 grown children, and 3 grandchildren.
As County Commissioner, Timm serves on the following boards:
Eastern Colorado Services for the Developmentally Disabled
Northeast Colorado Association of Local Governments
Seizure Committee
PC Fair Board (primary representative)
ETPR
Recreation District (alternate)
CCI Legislative Proxy
District 1 Commissioner
Terry L Hofmeister
Hofmeister was elected to his first term in 2018. He was born in Phillips County and returned to Phillips County in 2012 to his grandfather's family farm to raise cattle and dry land farm.
Hofmeister spent 33 years working full and part-time for Marathon Petroleum Company, a Fortune 100 company. He worked at many different locations and positions ending in Kentucky as a Regional Manager.
Hofmeister is active with the Republican party and is a member of the First Methodist Church of Holyoke.
Hofmeister has 5 grown children.
As County Commissioner, Hofmeister serves on the following boards:
NE CO Health Department
Centennial Mental Health
CCI Legislative Committee
PC Fair Board 
ETPR
Pro-15
CHP
#FFFFFF
Phillips County Commissioner meetings, at which the adoption of any proposed policy, position, resolution, rule, regulation, or formal action occurs, shall be held only after full and timely notice to the public. The Bulletin Board outside of the Phillips County Commissioner's meeting room is the official posting location for all Commissioner and Planning Commission agendas, hearings, and public notices. Work-sessions and meetings scheduled by the Board of County Commissioners are subject to change and are posted 24 hours in advance of the meeting.
The Phillips County Commissioners hold three regular meetings a month. One is scheduled near the 10th of each month, depending on other meetings or Commissioner obligations. The second monthly meeting is scheduled near the 20th of each month, and the third monthly meeting is generally the last working day of the month. The Commissioners may schedule special meetings.
Regular Commissioner meetings start at 8:00 a.m. and continue through the day until all business has been addressed. Regular meetings and special meeting agendas will be posted 24 hours in advance of the meeting time as required by CRS 24-6-402. Individuals can reserve a time to speak at the Commissioners meetings. To schedule a time on the agenda, interested citizens should contact the Administration office at least two (2) days prior to the scheduled meeting date by calling 970-854-3778.
Times noted on the agenda are an approximate time of when the board will be meeting with the party scheduled. The Commissioners reserve the right to hear agenda items in any order.
Meetings and work-sessions scheduled by the Board of County Commissioners are open to the public. Executive Sessions can be called during any meeting posted as a public meeting but not work-sessions. Executive Sessions will be closed to the public as outlined in the Colorado Revised Statutes 24-6-402.
The Phillips County Commissioners are invited and often attend the same meetings, and in order to save county mileage expenses, the Commissioners may travel together to these meetings. Meetings to which the Commissioners are invited are not posted at the Commissioners' bulletin board.
#FFFFFF
The following list are meetings where any combination of two Commissioners, or where all three Commissioners may be traveling together. You may check at the Administration office as to the specific date of the next meeting for any of the following:

Regular Monthly Meetings:
Northeast Colorado Health Department
Centennial Mental Health
Eastern Colorado Services for the Developmentally Disabled
E911 – Communications Board
Eastern District Transportation Planning Region
Economic Development
Northeastern Colorado Association of Local Government
Meetings scheduled as needed:
Golden Plains / CSU Extension
Colorado Counties, Inc.
13th Judicial District Review Board
Regional Commissioner Meetings
Meetings between the City of Holyoke, the Town of Haxtun, the Town of Paoli, and the Phillips County Commissioners
County Technical Services, Inc. [Insurance meetings]
CCI Summer Conference
CCI Winter Conference