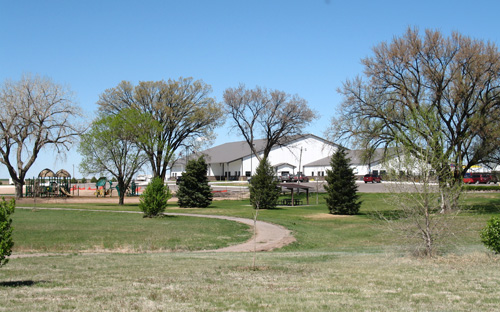 Upgrades to this park were made possible in part because of Enhancement Grants in 2011 and 2013 as well as a Great Outdoors Colorado Grant in 2011.
Homesteaders' Park is located at the Phillips County Fairgrounds complex 1 mile north of Holyoke (1 mile north of the stoplight at the intersection of Highways 6 and 385). It is connected to the Harvest Park RV Campground.
Homesteaders' Park has
an interactive water feature
one covered picnic shelter
a handicapped accessible playground
a frisbee golf course
a walking / bike path around the perimeter of the Fairgrounds complex
public restrooms available
Homesteaders' Park is available on a first come, first served basis, however, the county will take reservation requests for specific areas of the park for events such as weddings, family reunions, birthday parties, etc. which allow the renter exclusive use of the desired area.
If the renter wants an area to be reserved by the county, there will be a $50/day rental fee for park areas and, if you wish to include the special features in your rental (water feature, playground area, soccer field, etc.), the rental fee is $50/day for each feature. In addition, there is a $100/day refundable damage deposit.
Complete the rental agreement form and return to the Administration Office at 221 S Interocean Ave, Holyoke, CO 80734.
For more information, see the Homesteaders' Park Rental Policy.

Questions can be directed to the Event Center Reservations at 970-854-3616.
Events with alcohol are not allowed at Homesteaders' Park without initial approval of the Board of County Commissioners and are under the final jurisdiction of the City of Holyoke.